Bogus Slogan Poster #00040 - Inside View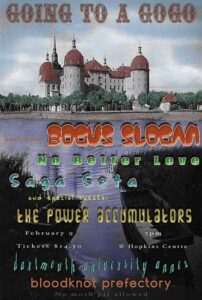 From the same first national tour as BS Poster #39, poster #40 promoted the bands appearance betore the mayhem of 1,350 college students at the infamous Darmouth University Annex.  Experiencing individual freedom for the first time – old enough to convince others to get into mutual trouble – well, even Bogus Slogan was learning about life on the road.
| | | • • | | |
To get the band on the road, Mason Kimmers (vocals, guitar), had found an old 1930's s big band touring bus, the mileage meter displayed 831,233.4.   Everyone figured that this was, at least the dial's second time around.  Up on blocks, with shredded rubber tires a thick coat of dust through out the interior (a victim of too many Santa Ana winds); the prospects were no looking good untilthe band met mechanic deluxe Nicky "Va-Voom" Konopolis.
Also know as "Kono," he had wandered backstage after a local club gig, raving about minor 9ths against walking bass lines supporting the octatonic scale.  Somebody started him with a beer and for the next 30 minutes he ruminated on music theory, comparing the turn of the century classical avant-garde with the middle Musique concrète period.  When he finally glanced down at his empty beer bottle with a look of dismay,  Kimmer, with omniscience from outer space, asked Kono if he knew how to fix a bus.
Bogus Slogan has been rockin' the world for over  half a century. Springing from the Surf, Psychedelic, Garage of the Southern California 60s, the band has released over 3 dozen albums and toured America & the World extensively.
Bogus Slogan uses artists, Illustrators and graphic designers from all over the world. ZenithPointStudio is proud to present many of the posters famed studio has done on behalf of the band.
ZenitPointstudio creates photos, graphics, illustrations and music for the entertainment of people.